I'll Tell me Lorraine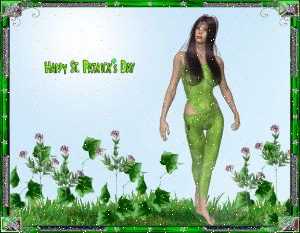 I'm advertising for the Fabulous Lorraine! Oh yes! Rainbow Brite herself will be entertaining the masses at Charlie's Pub ALL DAY and into the NIGHT on St. Patties Day. (I'm keeping the snakes out of MN for a while)
Lorraine has been talking about doing her hair green for the special event. I say, YES! I want colored hair too! I'm stuck with the Mortisha look. Which is ok, but colored hair rocks. Takes you back to the fashion doll days. So, all us LaMies are looking forward to some hot St. Patties Day photos! I wish I was singing with HER! I have a green corset! So, go and listen to Lorraine fiddle away with her fairy music and think of me, sitting in LA..in my green corset...
Here's a little poem I wrote about a true shamrock sighting at Lorraine's house.
Shamrock Girl
They say you have an uncanny knack for finding four leaf clovers
And as we sit, having tea in the garden
you show me this gift with effortless persuasion
"Ah here's one for you sister dear"
You say, holding a perfect shamrock!
I wonder, in my head, if my magic is strong enough to do the same.....
"If not here, now.. then when?" I say
and sure enough, beneath my naked feet
was a shamrock, standing proudly amidst his three leafed counterparts.
Just for you!
"Ah, Once mastered, always attainable!" I said to myself
and off I went to find another............
Sadly, I've been looking ever since.